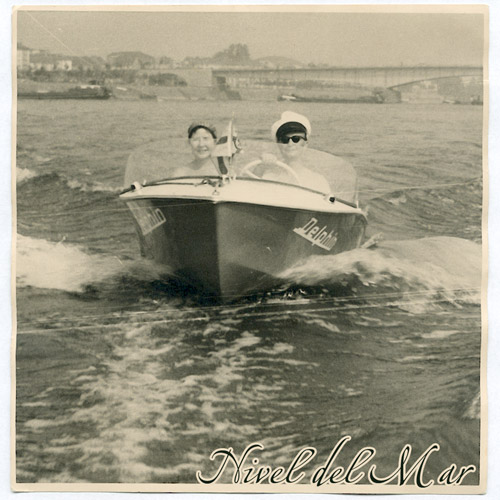 Nivel Del Mar – »Sounds for Soulsurfers«
"Busy times we live in, dude!", says the weed-smoker while getting laid back to manage all the information, all the news, all the technological developments running like a rush through his data-pipeline. "It's just sick. How do I stay in touch with all that?!? I need more drugs to come down…"
Yeah, somehow he's right. Everything is growing so fast, so many distractions, funky toys and things out there - all want to be checked. But instead of giving up, smoking your head away Phlow-Magazine.com offers you an interesting opportunity: We invite you to take some time off and try our delicious drug called free music.
Download our first anniversary chill out compilation, rip the internet-cable out of the box and chill one hour, 22 minutes and 55 seconds with us somewhere at an imaginary coast, under the water or like my grandpa on his little boat with grandma - Look at the cover how the old freestyler enjoyed his days!
So, please give yourself a healthy rest, you've really earned it!
"Nivel del Mar" Playlist
About "Nivel del Mar" Compilation
This compilation was arranged by mo. with care. Respect for the wonderful tunes go to all the bands, musicians and producers who made this collection of relaxed sounds possible. With a big hug we embrace all the netlabels who made these sounds available for us! Thank you!
All tracks were released under a creative commons licence, which says you are free to share,  to copy, distribute and transmit the work!
To find out more about every artist and every song, click the link and we will guide you to the whole album-review/download!
"It's on you" from Motown Junkie (Test Tube)
Compilation MP3 Music Download
Download Nivel Del Mar - Sounds for Soulsurfers
Release
//
Nivel Del Mar - Sounds for Soulsurfers
More Compilation Music