What is Phlow-Magazine.com?
Phlow-Magazine.com
is a magazine about free mp3 music culture.
Our magazine offers you free music to download
from netlabels and musicians all over the globe. We pick the finest songs and digg the fattest grooves out of terrabytes of music released under a
creative commons
licence. Have a look into
our mp3-archive of free music
and read our portraits of amazing netlabels and musicians.
What we achieved so far...
After one year from september 2007 to september 2008 we accomplished to get some exciting results together... Just enjoy some numbers with us:
After 365 days of Phlow-Magazine.com we welcomed 114.205 visitors from 189 different countries.
We served 316.851 webpages in one year, starting from nothing.
In that year our RSS-Subscribers read 205.856 of our articles, clicked 34.982 to come back on the website and downloaded 48.829 MP3s via Podcast.
Our free music compilations got massive feedback and in general each compilation was downloaded more than 5.000 times.
Testimonials: What people say about Phlow!
Professionals, musicians and our readers like us. Listen what they say about Phlow-Magazine.com:
"The future of culture will be free. Musicians are its avantgarde. If you want to know where free music is heading, just go with the phlow."

"Phlow tries to chart the unknown waters of netmusic, providing lots of navigational aids for the intrepid musical explorer. The 'free mp3 downloads' section is organised by genre, making it easy to look for your preferred style, something that is surprisingly rare on the netmusic scene. It also supports Creative Commons music and is a thoroughly pleasant and inspiring place to visit. It's the perfect diving-board for the netlabel newbie."

"Ich bin total begeistert von Eurem Baby "Phlow Magazine". Ich habe heute schon wieder den Tag damit begonnen im meinem RSS Reader nach neuen Phlow Magazine Beiträgen zu schauen. Ganz enttäuscht habe ich dann gesehen, dass es noch keinen neuen Artikel gab, bin dann - wie so oft - direkt auf Deine Seite gegangen und habe den Musikstücken, die mich beim ersten Hören nicht begeistert haben eine zweite Chance gegeben. Und wieder haben ich Perlen freier Musik entdeckt, die mir sonst verborgen geblieben wären. Auch die Einbindung des Flashplayers ist genial! Kurz gesagt: Die ganz Seite rockt!

"Phlow-Magazine.com is a weblog about free mp3 music culture. It is one of the best webzines, at the moment, according to netlabelism. mo., Sven Swift, Brigitte Bijoux and other authors made a brilliant peace of free culture."

"THE number one source for net (music) culture and everything related. Beautifully designed and excellently written, with the cool extra of interesting discussions between scene protagonists. Held and to be followed in the comment part to every article. All thumbs up, plus one more."

"DYN-O-MITE! Love the site. Thank you for the english version. I look forward to raiding your pantry. Creative Commons recording scene is the most exciting "thing" I've encountered in a long time. Rock on."

heymarlin via email

"Ce site est vraiment montagne du trésor."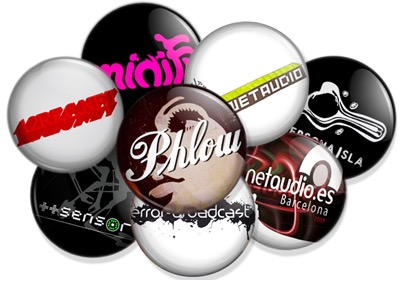 Hello my name is mo. and I speak (d)english. I am a journalist, book author and musiclover. Some people know me as the founder of the Netlabel Catalogue, a list/directory of the worlds finest netlabels.
Everything started with Phlow.net a place where all my interests for netlabel-music and musicians from the netaudio-scene started. Over the years there have been a lot of complaints about a missing version in english. So, today it's the 21st of september 2007 and here we go: this is the english version of the Phlow Magazine. Enjoy, comment, give us feedback and listen carefully to the selected music. It's all about music.
I love various kinds of music and I am probably spending too much time in this strange musical sphere that people call the netlabelscene. I present a monthly radioshow on netaudio at Byte.fm and Hertz 87.9, run a webzine called metawelle.net and I am part of the netlabel aaahh-records.
Hello, my name is Greg Healey, a musician/music producer, artist, writer and net-radio presenter living in Cornwall/UK. I release under the name HealeyIsland on Ann Shenton and Marc Hunter's White Label Music record label. My weekly radio show, Analogue Island, focusses on the best in independent music, regardless of style or genre, and can be heard on Penwith Radio, which broadcasts online out of Cornwall. Analogue Island is streamed on Thursday and Friday evenings. Details of times and artists featured can be found at the Analogue Island blog.
My name is Sven Swift, I'm running CDR- and Netlabel 12rec., produce music under various monikers (listen), waste my time as a part-time graphic-designer and work as a Ph.D-student in a biochemical laboratory. I'm living in Northern Germany.
Netlabel: Error-Broadcast
Martin "020200" Wisniowski is for several years rooted in the netaudio and demoscene world in Germany and connected to the indie-games-world as well. He likes to keep up with fresh things and is into music, art, software-design and creative code. He works as software-engineer and writer, established the netlabel 2063music and regularly writes his own blogs at Digital Tools.
Hello! I am Brigitte Bijoux and a music-producer living in Tokyo/Japan. I am an artist, writer and DJane. I released a netaudio-EP over at iD.EOLOGY called "Le Fleuve Profonde". My favorite styles are mad-deep breakbeats from HipHop to Downbeat to Drum'n'Bass. My heart synchronizes to phat, thick and melodic grooves. You can download more sounds and read my complete bio at my little place at www.brigitte-bijoux.de. With love from Nippon, B.
Hey! I am Rute Correia, a portuguese netaudio enthusiast. I produce and host an exclusively netaudio dedicated radio show/podcast named "Marca Branca" that airs on Rádio Zero (in Portugal) and Radio Filispim 93.9FM (Galicia, Spain). At the same time I am part of Beats Play Free a portuguese community of netaudio supporters. By now, I am also finishing my bachelor in Communication and Media Sciences back in Lisbon, trying to get into the business. I love trip-hop, intrumental hip-hop, downbeat, breakbeat and dub, though I'm not very picky on music styles and tend to like a little bit of everything. Greetings with the scent of the Atlantic Ocean!