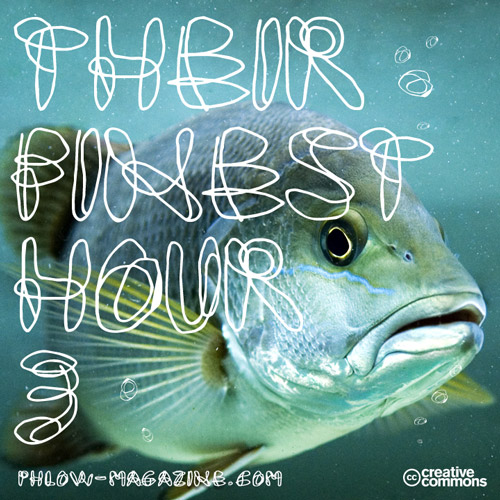 Music for the open-minded
Best Of Netlabels: »Their Finest Hour Vol. 3«
We don't care about genres! Of course, we cultivate our preferences like everyone. But we try to stay open-minded as possible as we can. Convinced that the only way to discover new worlds is to share, to communicate and to listen to each other, we proudly present you the third edition of our Phlow-Netlabel-Serie. We dived into the deep ocean of free music and came back with this adventurous compilation. Explore with us music from all over the globe, from Indie-Pop to Techno to Drum'n'Bass to Ambient.
mo.'s little note
Soto was the brightest discovery for me in March. While fumbling around with my telescope to discover new electronic music, Sven published his wonderful discovery. The pop-group from Japan sneaked directly into my heart and that's why Soto had to be the hugging brace for our third Best-Of-Netlabels-compilation.
As always we tried hard to combine the most impressive music-moments to one phlowtin' music-sampler. I hope you enjoy the diversity of sounds… And if you do so: Smile back and leave a note on the websites of your favorite musicians! They're thirsty for feedback, so why not saying: Thank you for your music!
Greets from Cologne/Germany, Yours mo.
Check out our reviews of each release
Information about the Cover-Artwork
The artwork was composed by mo. But the main respect goes to the photographer Taro Taylor who shot this amazing photo. You find Taro's portfolio on flickr.com. Fortunately he released his colourful shot under a creative commons.
Compilation MP3 Music Download
Download "Their Finest Hour - Vol. 3"
Release
//
"Their Finest Hour - Vol. 3"
More Compilation Music