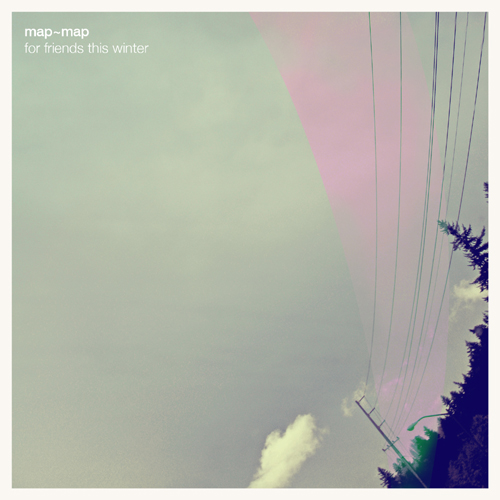 Minimal Ambient
map~map – »For Friends This Winter«
A tiny EP is stolen from a blog called "Dust Breeding" which I love a lot. These terribly short however mesmerizing sketches of minimal Ambient and musical processing of environmental noise are something I come back to on a regular basis. As the title already suggests, "For Friends This Winter" is quite an intimate thing, and evertime I listen to it it feels a bit like stalking someone.
"Dust Breeding" is the daily blog Marc Fisher is running in his second year now. Fisher lives in beautyful Portland, is 50% of Unrecognizable Now and 100% of map~map. Very much what "blogs" used to be in the heyday of the interweb, "Dust Breeding" is about  posting something every day, typically photos and a few personal words. You can find spontaneous recordings, sound experiments and jam sessions there posted, too. This is entertaining at least, inspiring and memorable at best.
"For Friends This Winter" was posted the 23. of December 2009. Six little compositions that engage you with subtle drones and cyclic motives of something that once was melody. The mood is dark chesnut with a hint of cosy russet. A wonderful and peaceful collection that goes perfectly well with Geotic or Maps and Diagrams, to name just my most recent posts in the Ambient-genre. Love.
Ambient MP3 Music Download
Download For Friends This Winter
Netlabel
//
http://unrecnow.com/
Artist-Website
//
http://unrecnow.com/dust
More Ambient Music