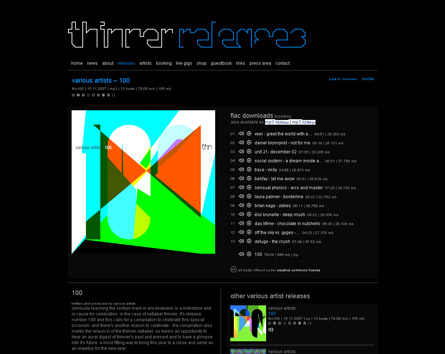 Happy Birthday! Thinner Netlabel Relaunch plus 100th Release
Wow! Netlabel Thinner relaunches the website and releases its 100th netaudio-album. And of course, it's an compilation with music from most well-known producers like Sensual Physics, Benfay, Laura Palmer, Veer, Brian Kage, Eloi Brunelle and Deluge. But Thinner not only shows us its new dresses. No, there's a lot more waiting to discover. Next to the music downloads in even higher encoding quality like the lossless music-format FLAC and 320-kbps-encoded MP3s, Thinner rewards us with a new business weblog called thinnerism.cc and a new elegant and smooth uptodated webdesign in black with a new corporate identity.
Have a look and wait till monday for our review for the anniversary compilation simply called 100!
More News Music