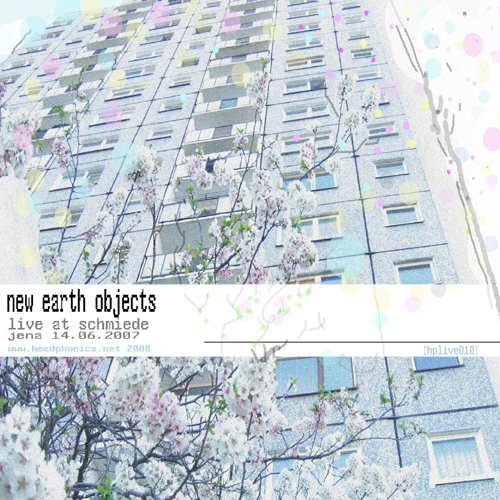 New Earth Objects – »Live at Schmiede« (Headphonica)
Mesmerizing Experimental Pop // New Earth Objects is a musical collective from Germany, "Live at Schmiede" a live recording conducted in Jena back in 2007. The bands' improvised free-form Pop is perfectly suitable for a live performance, and although within the 73 minutes set not too much is happening, the music will leave you beautifully benumbed.
New Earth Objects - "Part 2" (MP3)
New Earth Objects is Clemens Wegener, Marian Reinig and Tommy Neuwirth. Not much is known about the band- anyway, we've got this wonderful live recording! Within 73 minutes and basically four tracks (ranging 12 - 27 minutes), the band creates their very own sound vision blending minimal Electronica, Krautrock and Pop.
Synthesizers go along with decent sound gimmicks, super simple drums and hushed vocals. Warm textures are played out to maximal duration, drums and beats are a meditation on structure, a natural pulsing rather than an instrument to agitate the crowd. Especially the first two tracks are absolutely bewitching. "Slow down, slow down…" - must have been a special performance!
MP3 Pop Music Download
Download: "Live at Schmiede" ZIP
Artist-Website: myspace.com/newearthobjects
Release: New Earth Objects - "Live at Schmiede"
Netlabel: headphonica.com**</p>
</strong>
More Experimental Music