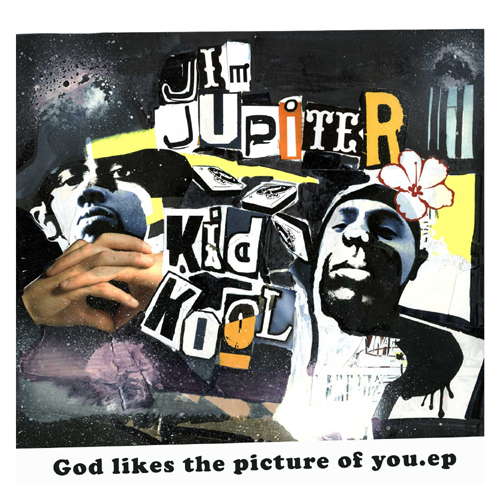 A Quilt Of Experimental Hip Hop
DJ Internet & Kid Kool – »God Likes The Picture Of You« (Hungry Men Records)
If Max Ernst would have been a b-boy, his beats would have sounded like this. Right from their junk flats in Berlin Prenzlauer Berg, glue-sniffers DJ Internet and Kid Kool combine a myriad of jumble sale samples to atmospheric collages of experimental Hip Hop, digital Turntableism and, every now and then, the old floozie Pop. Ingenious on second try.
Most innovative music needs repeated listen. Consider Free Jazz: the unexperienced ear can't sort out the fractalized grooves and widespread harmonies. Autechre might sound random if you're not used to experimental electronic music. Madlib's beats for himself as Quasimoto can be considered as unfinished drafts someone accidentally dropped rhymes on top.
Internet & Kool are neither Free Jazz or IDM but can be compared with Madlib, Kid Koala or cLOUDDEAD. Both guys are well-known producers and label heads from the (East-) Berlin Rap underground. Internet spins the wheels as DJ V-Raeter and forms the duo Sichtbeton alongside MC Lunte. Kid Kool is Felix K., founder of Dubtech label Hidden Hawaii, journalist and producer. He's also part of the Hungry Men crew. As a band, Internet & Kool produce loose sample-based Hip Hop, sometimes smooth and atmospheric, sometime rough and edgy and closer to radio play than truebred Rap. Dressed to size with a fine sensibility for Pop structures, "God Likes The Picture of You" is a fresh piece of intelligent Hip Hop music.
More Experimental Music