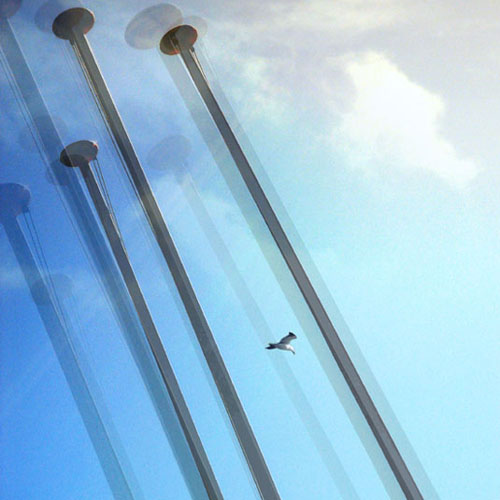 Anton Mobin – »Micro-Climat« (konkretourist)
Intensive Musique Concrète // French experimental music composer Anton Mobin released a 15-minutes piece of highly processed field recordings at Cologne konkretourist Netlabel.  "Micro-Climat" consists of recording from North and South France condenses versatile soundscapes and textures to an intensive piece of Music Concrète.
Anton Mobin - "Micro-Climat" (MP3)
What struck me about "Micro-Climat" on first touch was the bass-heavy physicalness of Anton Mobins' aural quilt. He interlaces field recordings with musical elements (some percussive, some traces of instruments) and drops smithereens of conversation (French language). Mobin a.k.a. Anthony Baron uses the full range of the audible spectrum, from high frequent noises to subsonic audio events. Most of the time, his Music Concrète-composition is beautifully pure although most sources are hard to guess. Every now and then, however,  Anton Mobin radically enhances the  intensity of his track, resulting in bursts of curiously non-aggressive noise I have scarcely heard before.
Rich and refreshing, Anton Mobin places himself right between the IDM-influenced Electro-acoustica of d'incise, Preslav Literary School and Brooklyn noise pioneers Black Dice. Thanks to konkretourist Netlabel which I discovered only with this release!
By the way, Marco Medkour, one half of konkretourist, will present his "Soundmap of Cologne" at the Cologne Commons festival this weekend, 12th to 13th of June. Another exciting project.
MP3 Experimental Music Download
Download: "Micro-Climat" (ZIP Archive)
Artist-Website: audioblog.arteradio.com/ANTON_MOBIN
Release: Anton Mobin - "Micro-Climat"
Netlabel: www.konkretourist.de **
More Experimental Music