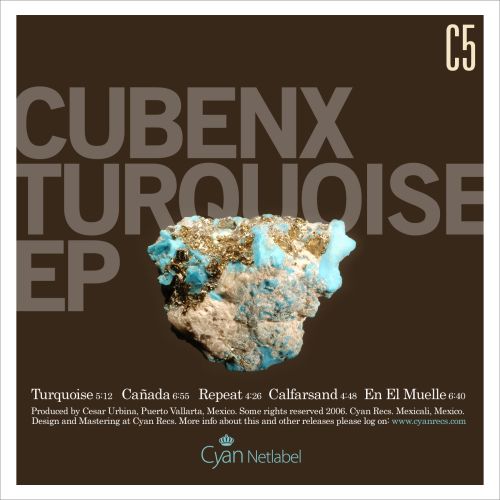 Cubenx – »Turquoise« (Cyan Recs)
Atmospheric Techno // Cubenx comes from Mexico. Even though the title track "Turquoise" kicks off with a steady bassdrum, his music includes more than a 4-to-the-floor. It seems, that the mexican musician gets inspiration from various sources for his electronic productions. I guess, that's why you hear next to techno music some deep ambient works. All his five tracks on his "Turquoise" EP are still connected with a melodic feeling for some pop-like grooves.
I always enjoy music releases which come along my earphones with different styles. Nothing is more boring than a steadily bouncing bassdrum through a whole ep. That's why I like Cubenx approach to fuse different music styles together. The music on "Turquoise" ranges from techno to electro to ambient. And it works. His "Turquoise" EP leads us through different moods. When you listen to his ambient track "Calfarsand" it is never too far away from the more upfront electro-track namend "Repeat". Funky beats, playful sound-experiments and anthem-like synthesizers lift you up in this track. Cool.
A well-shaped, vivid and experimental release full of surprises.
Last not least, I have somehow this feeling, that Cubenx has a deep connection to music from my hometown Cologne - to be precise to music from Kompakt Records. If you like Kompakt, you'll enjoy his music.
MP3 Techno Music Download
Release-Download: Cubenx - Turquoise (Cyan Recs) Zip-Download
Artist-Website: Cubenx
Netlabel: www.cyanrecs.com
More Ambient Music