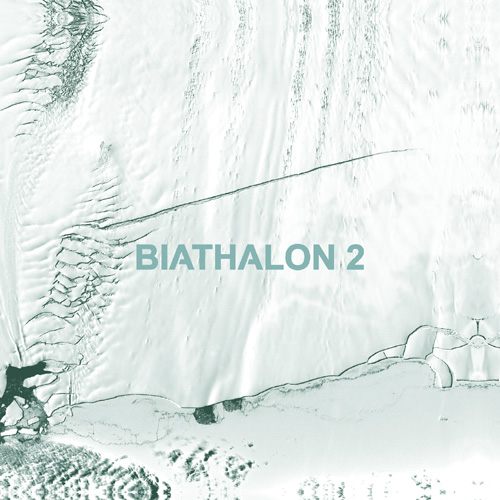 Biathalon – »Biathalon 2« (Expanding Electronic Diversity)
Calm and Soothing Textures // Under the name of Biathalon, NYC-based Eric Adrian Lee composes smooth organic Ambient music that continuously oscillates from analog to digital. Inspired by equally sky and sea, Eric delivers mesmerizing textures and meditatively meandering synthlines that make you forget time and space.
I was wondering how Eric might achieve the specific Biathalon-sound. All his synths and field-recordings sound a bit like wrapped in wool and the melodies shift in tone like molten cassettes. Imagine a broken tape deck under a blanket, playing Brian Eno and Cluster-tunes. And indeed: all his music is recorded on an old cassette multitracker, as he told me when I got in contact with him, asking about the music. Cool.
The EP starts with the lulling "Warm Front". Though it's very harmonic, a feeling of subtle menace remains… The song captures the feeling of "calm before the storm" quite perfect. For "Neumayer Station" and "Cloud Formation", Eric gets close to the Boards of Canada. With it's minimal oscillations, tiny pitches and overall fluctuation, particularly "Cloud Formation" is more than just copying the Boards' trademark-sound… Eric Satie comes to my mind, and again, Eno.
"Program Information" comes off with a nice set of retro-futuristic synth sounds and gently shifts the atmosphere from sky high to underwater… to bring it all down in the epic 16 minutes-track "Underwater Is A Place To Be Alone". Being the most traditional song on this EP says a lot about Biathalon herein. Pure calm, Eric skillfully combines water sounds, aquanaut breath, smooth rhodes chords and gentle guitar-improv. Music to fall asleep to, if you know what I mean ;)
MP3 Ambient Music Download
Release Site: Biathalon - "Biathalon 2"
Direct Download: Biathalon - "Biathalon 2" ZIP (FLAC ZIP)
Netlabel: www.electronicdiversity.com
Artist Website: www.myspace.com/ericadrianlee
Eric's Painting: www.ericadrianlee.com
More Ambient Music