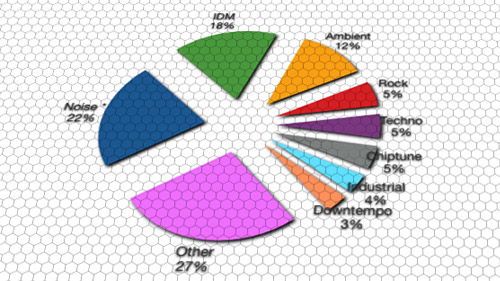 Wanna see the most common netaudio music genres?
That funky statistics // Funny accidents: Yesterday I met Patryk Galuszka who does a huge research on netlabels, netaudio and free music for the Max Planck Institute in Cologne. When I checked the comments of our lovely magazine italian blogger Rubèn aka eldino posted some research by himself, too (Download the whole document as PDF).
I always knew: "Netaudio is massive noise!"
He digged his downloaded music and realized some diagrams and obtained some interesting results. All his research is based on his personal library of 43.057 netaudio tracks. That makes something about 316 Gigabytes. Pheew! I doubt, that he really listened already to all that music ;) So, if you're interested in some statistics, beam yourself to Italy and have a look. and tell us: What do you think about his research and its results?
More News Music