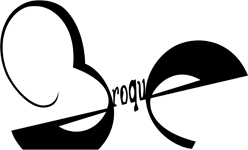 What services & features does a netlabel need?
A Careful Re-Design of a Netlabel // In the last two weeks I worked on the re-design for the german techno (net)label Broque.de that sometimes also releases alternative electronic music.
After some discussions in the beginning of the now gone summer, labelhead Christian Kausch assigned me to move to the next step: To re-design, program and set up a fully functioning content management system (WordPress) with some new delicious features. Today we lift the curtain and present you not only a re-worked and carefully crafted website… No, on top you get a new and funky techno-release from Russia.
I am sure, there are still some bugs left… And of course there are still some questions waiting for answers:
Does the netlabel-website serve all of your needs?
What do you think is missing?
Do you need more functionality, more Web 2.0-features or are you satisfied?
What elements do you miss and what makes the perfect netlabel-website?
If you help us, maybe in the next months I will present you the ultimate WordPress-Theme to build a great music-website! So check it out, come back and help us to build a concept for the perfect netlabel!
More News Music