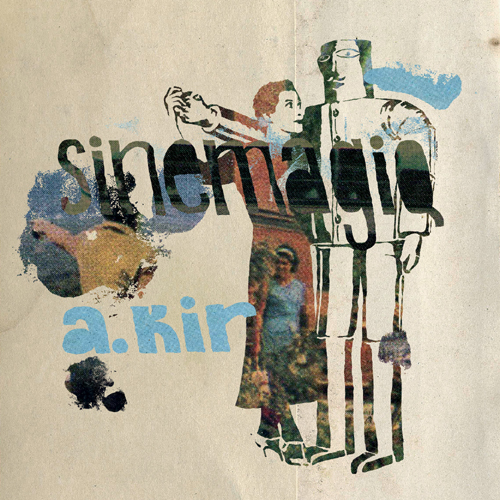 Andrey Kiritchenko – »Sinemagiq«
Angular and Elegant Techno // Andrey Kiritchenko is the man behind the wheels of Ukrainian Nexsound record label. As a musician, Kiritchenko moved from 1990s electronica to musique concrete and drone music. His recent oeuvre knows about tender Folk tunes and subtle improvisations as well as harsh noise. On "Sinemagiq", Kiritchenko dedusts our old friend Techno.
Well, Techno. What a odd genre, equalizing cheap rave tunes and serious sound science all in the name of the bass drum. Andrey Kiritchenko, as you probably can guess, is rooted far out at the experimental edges of what you know as Techno music. For the self-released "Sinemagiq" EP, he goes for the basic fundaments of electronic dance music: repetition, tribalism, straight but effective melodic minimalism.
Seven tunes, arranged like a good DJ set, with a limited set of sound that appear all quite brownish to me- take a look at the awesome cover artwork by Dmytro Nikolaenko to get an idea what I mean. Everything sounds very organic, wooden by chance, and there's a knarz in there that's substantially different from the Berlin squarewave Rockers the kids are so mad about these days. Kiritchenkos music is dark, driving and develops a hypnotic pull that's hard to resists. From the disharmonic siren in "00" to the fat UK-style bass synth in "06". Highly recommended.
MP3 Techno Download
Download: ["Sinemagiq" ZIP
](http://www.archive.org/download/AndreyKiritchenko-Sinemagiq/AndreyKiritchenko-Sinemagiq_vbr_mp3.zip) Release: Andrey Kiritchenko - "Sinemagiq"**
** Artist-Website: www.nexsound.org/akir**
**
More Experimental Music