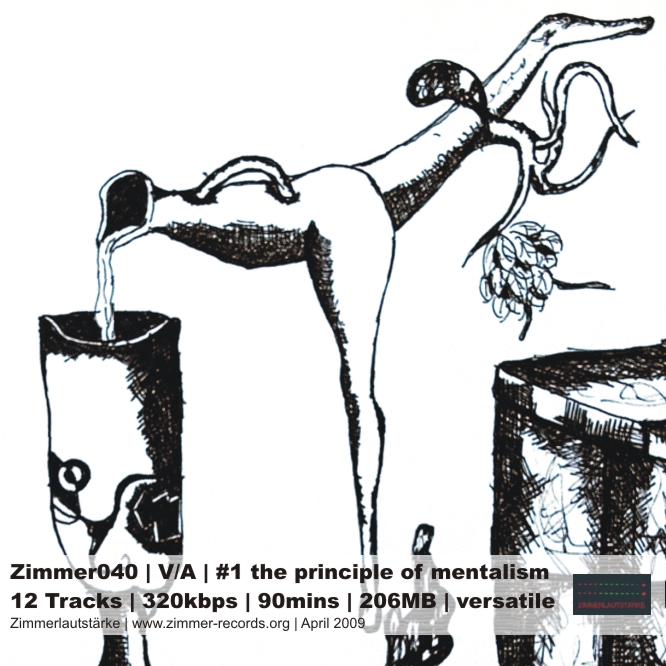 Eclectic Techno Compilation
Various – »The Principle of Mentalism« (Zimmer Records)
200 Megabytes of brilliant music from various artists found its way to the 40th release of the German netlabel "Zimmer Records". To get an idea of the decent quality, just imagine, that only the first two tracks almost fill up half an hour of distant electronic meditating sound. Other tracks are shorter, about 5 and 8 minutes and feature more of such traditional techno recordings.
But some tracks have wicked twists. The best example for something "out of the ordinary" is "save our souls" from Raganova. Disharmonic, plain and instant groove right from the first second.
As already mentioned, this is a compilation of various artists. Aleks from Zimmer Records told me, that he felt an itch in his fingers and wanted to make more compilations, just after doing mixes and compilations for other occasions and projects - for example the Cologne-Commons compilation. If we can expect more of this well done compilations in the future, than Zimmer will keep on growing into the "must have" direction.
This compilation is the first part of the "Hermetic Principles" series and the second part will be coming soon.
Compilation Techno MP3 Music Download
Download Various - "Principle of Mentalism"
Release
//
Various - "Principle of Mentalism"
Netlabel
//
http://www.zimmer-records.org/
More Compilation Music