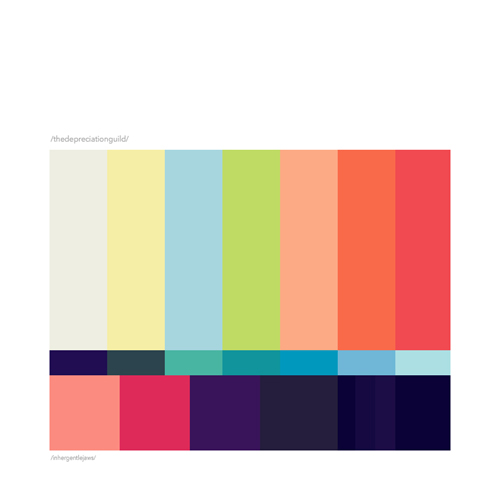 The Depreciation Guild – »In Her Gentle Jaws«
Affair of the Heart // Music helps you to get nostalgic every now and then. Remembering the good ole days might be a stupid reason to fancy certain songs or bands but sometimes you can't help. Consider New York City Famicom-Rockers The Depreciation Guild - what took these delicious guys to fuse early 90's Shoegaze with tickling 8bit textures? You simple don't have another opportunity than lovin' them!
Three American guys with surprisingly German names, Kurt Feldman with brothers Anton and Christoph Hochheim form a band of two guitars, vocals and a modified Famicom, known as "NES" in Europe (check this nice techtalk article to learn more about their line up).
The Depreciation Guild's first EP "Nautilus" was released over at 8bitpeoples.com (see our Blip feature for a nice live video of the band at the 2007 festival), but their full-length album is online on their website without any label support. This makes sense in a way as their melody-driven Indierock never suited the Peoples that well.
<img class="alignnone size-full wp-image-783" src="https://phlow-magazine.com/images/tdg03.jpg"
Recorded by Feldman and his companion Akira Hashizume, "In Her Gentle Jaws" (what a title!) features ten energetic and moony Pop tunes with a lot of fuzzy guitars and vocals like recorded in a hall church. The Famicom leads are integral part of their music and not only used as a gimmick. Slightly out of tune, most of their songs don't show up with all of their bliss at first try, but "Sky Ghosts", "Dark Looming" or "Digital Solace" are bittersweet symphonies par excellence.
A light-hearted version of My Bloody Valentine, Ride, Cocteau Twins of course… imagine this bands mixed with the sound of Nintendo's oldest console and you know what The Depreciation Guild sound like. Brillant, end to end.
MP3 Pop Music Download
Download: "In Her Gentle Jaws" ZIP
Artist-Website: www.inhergentlejaws.com**
---
More Chip Music Music