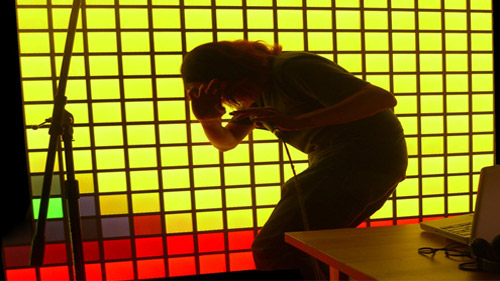 Blip Festival 2008: Reformat the Planet
While doing some research for the Random-review, I stumbled upon the expanded video accompany of the bygone Blip Festivals. The festival is hosted and organized by New York City's finest 8bit Peoples Netlabel and gets together the world elite of chip sound since 2006 (not sure about that). Now, for the 2008s edition of Blip, the infamous 2Player Productions made up an extremely professional and dedicated documentation of the whole 8bit scene, listed for the SXSW Film Festival: "Reformat the Planet". A good moment to introduce some key players.
First of all, check the trailer:
Wow! This is exactly the tool, a brewing subculture needs to gain attention from the mainstream. At least a greater audience in case you deny the term "mainstream". Awesomely well produced, funny, cool and informative. Unfortunately, I haven't seen the whole thing… Nevertheless, fingers crossed for the SXSW from the whole Phlow Mag crew!
While the 8bit Peoples provide the world with free music, 2Player Productions stream music- and live-videos of the protagonists via vimeo.com (
you already know the mash-up clip for Anamanaguchi. I choose a couple of videos to give you an idea of the 2PP style, starting with 8bit Peoples mastermind Joshua Davis aka Bit Shifter. Chip Cruise Ahoy!
I have mentioned Random in the introduction, here's a cool video of this young Swedish 8bit raver:
Most chip heads are solo artist, rocking the stage solely with Gameboy, C64 or MacBook. The Depreciation Guild is a Rock band rather than the typical Electronica stage act. Some kind of NYC 8bit poster boys, actually. Skinny guys with rampage guitars and NES-keyboards, how does this work? Assure yourself right here.
Another special thing in the chip scene is being female. Here, Korea-born Haeyoung Kim aka Bubblyfish is one of my favorite 8bit musicians. Her style is a bit more academic, less hedonistic than the average chip party outlet. Make sure to check her album at Burkhard Kerlin's Retinascan-label!
To make you book the tickets to New York City and fall in love with the chips finally, enjoy this powerful live performance of Jeremiah Johnson aka Nullsleep. Another important 8bit Peoples-head, Johnson is the dark messiah of chip music. Striking stage presence combined with belief, Nullsleep might be the one to read about in your favorite music magazines at first. The 2PP spring for the moving pictures:
At www.2playerproductions.com there are a lot more cool video to watch. What clips are your favorites? What important artists haven't been mentioned and deserve our attention? Please post!
More Feature Music