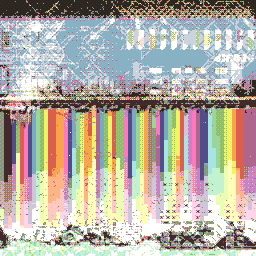 Various – »Heartcode« (Pause Music Netlabel)
Chiptunes Not long time ago we told you that the release from Iqtu on Pause-Music (II-music) was the best release so far on II. The label really makes it not easy for me, because now I want to say the same thing about "Heartcode". It is a small, but a very powerful compilation with music from the label staff.
Disasterpease "Ensis" (MP3)
Alex Maurer "Ikea Shopper Credits" (MP3)
Phlogiston "Crystal Waves" (MP3)
There are minimum two pieces on "Heartcode" that are outstanding and blasting away any doubts about the grown-up abilities of chip-musicians. The masterpiece is "Ensis" from Disasterpeace. He likes to combine crazy things with different speeds, surprising breaks, fine melodies - all put together with extraordinary composational abilities. It is really hard to shine next to such a burner.
Nevertheless… the other tracks on "Heartcode" are pure 1-a finest quality. "Ikea Shopper Credits" from Alex Maurer brings back the Marble Madness vibe, while tracks like "Monstrox" or "Get Pumped" the complexity and the addicitve sound that you maybe missed since the days of Turrican or old games from Konami. Don't let this music get out of your head. Get and download it now. It's free!
MP3 Chip Music Download
Download: Various - "Heartcode" (ZIP-Archive)
Release: Various - "Heartcode"
Netlabel: www.iimusic.net
More Chip Music Music