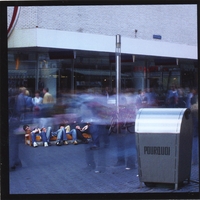 Pourquoi me Reveiller – »They took my bed outside« (Dying Giraffe Recordings)
Eclectic Indie Rock // Pourquoi me Reveiller is an interesting Dutch indie-rock band from Rotterdam and they are apparently trying to confuse us - a Dutch band with a French name and English lyrics. Their music can be labelled as eclectic rock because it features an array of different instruments and styles. This definitely adds a special and unique note to them.
Pourquoi me Reveiller was founded in 1998 and means "Why awaken" or in a broader sense "Why should I wake up". In 2005 they recorded their debut full length "They took my bed outside". Although the opener is called "bloody hours of nasty torture", recording the album must have been great fun because each song on their debut LP sounds completely different.
Besides the typical indie-setup (guitar, bass and drums), Pourquoi me Reveiller introduced piano, accordion, electronic sounds, samples and noise elements, that helped to create an eclectic indie-rock album, that ranges from experimental rock to acoustic pop. The Dutch septet is currently working on new songs, until those are put on an album, you can find "They took my bed outside" at Dying Giraffe Recordings.
MP3 Indie Rock Music Download
Release: Pourquoi me Reveiller - "They took my bed outside"
Netlabel: Dying Giraffe Recordings
Artist Website: www.pourquoimereveiller.com
More Folk-Acoustic Music