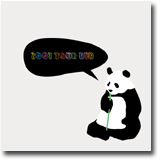 Panda Bear Live DVD – for free!
Dedicative Live DVD // Panda Bear is Noah Lennox of the NYC Free Folk-outriders Animal Collective. Due to the eight full-length records with his band, Panda Bear has released three solo LPs. His music is a strange mixture between sweet and sickly Pop-melodies in the vein of Simon & Garfunkel and, on the other side of the spectrum, free-form noise, improvisation and electro-acoustic experimentalism. Get ready for a 3.7 GB download of the Panda Bear's US-tour in Summer 2007!
The whole tour was filmed by mysterious Mike, "a regular dude who likes to film shows", as he writes on eartapes.com. On his website, Mikes provides high-quality videos by his favourite bands and musicians. When Mike heard about Panda Bear's small US tour for his recent album "Person Pitch", he got in contact with Noah, offering his idea to accompany him for three shows. The Panda Bear agreed and Mike shoulderd his digicam. He shot the shows, backstage material, sound checks and filmed an interview. Back home, Mike cut everything to reasonable length, fixed sound track and subtitles and out the whole thing on his website.
It seems like Mike does not want to earn money with his passion because everything is for free: "I am a firm believer that the greatest things in life aught to be free, music being one of those things. Because of this and my respect, appreciation, and gratitude for Panda Bear, there is no necessary charge for this DVD. It will be free." Thank you, mysterious Mike.
DVD Video Download
Release-Site: Panda Bear Live DVD
Website: [www.eattapes.com
](http://eattapes.com/Panda/ "Panda Bear @ Eat Tapes") Artist-Link: Panda Bear
More Ambient Music