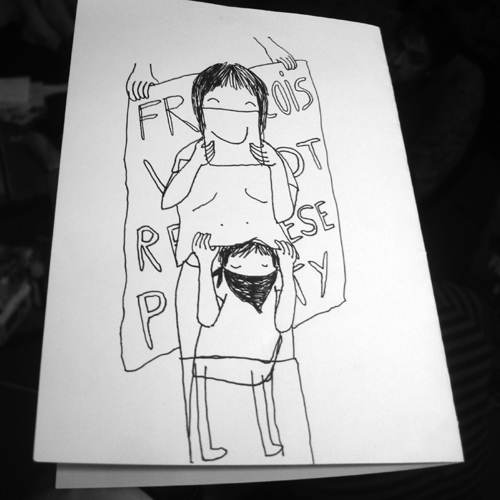 Virot & Friends – »Release Party CD-R« (Clapping Music)
Three Times Weird Folk From France</a> // François Virot released a wonderful LP at the French Clapping Music recordlabel. For the release party in Paris, François gave away 100 copies of a CD-R featuring two friendly artists and two unpublished tunes by Virot himself. Soon after, Clapping Music decided to go online with exactly these tracks for free download. Hooray!
The compilation brings together three young French artist, all situated between edgy Pop- and some kind of lo-fi Folkmusic. Karaocake is the solo outlet of Paris-based Camille Chambon. With four self-published records and a lot of tourring through Europe, the US and Canada in the back, Chambon comes off quite professional. Her loose lo-fi Pop miniatures don't do fortunately. Charming introspect home recordings, and a beautiful voice.
Marie Marie Cells hit the spot more rude. Rumbling bass meets juvenile male vocals meets lurching keys that sound like 90's Shoegaze. A strange combination, but somehow this cheeky Paris boygroup has a knack as well.
François Virot finally delights us with two high quality outtakes from his recent "Yes or No" album. In brutal falsetto, only acompanied by his acoustic guitar, Virot performs his awkward Indiepop. Somewhere between Panda Bear and Stephen Malkmus, François Virot proves himself as a skilled songwriter with loads of ideas and a stunning feel for melodies.
Video "Cascade Kisses"
PS: Read about Virot's No Snow-release at Merzbau Netlabel very soon!
MP3 Pop Music Download
Download: "Release Party CD-R" ZIP
Artist-Website: Karaocake // Marie Marie Cells // Francois Virot
Release: Virot & Friends - "Release Party CD-R"
Netlabel: clappingmusic.com **
More Experimental Music