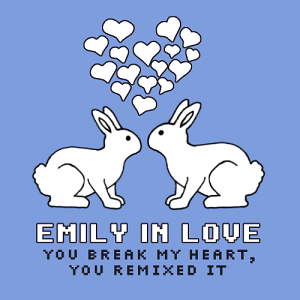 Emily in Love – »You Break My Heart, You Remixed It« (Corpid Netlabel)
Sweet Elektropop // Ladies and Gentlemen let me introduce you to some german-austrialian electropop in english. On "You Break My Heart, You Remixed It" the austrialian project Emily In Love meets her remixers. Especially Rupert Falsch from Berlin took the rendez-vous quite serious and starts a duet with Emily to express his gratitude to remix her.
While surfing for information about this electropop release, you read:
"Emily In Love is the side project of Emily, one half of the electropop duo Bisexual Cyborg, a sad Australian girl who makes dreamy indiepop/folk/tronica for herself and her imaginary cats."
Corpid Netlabel is quite known for its careful and earnest remixes for its own ladies. Just remember the excellent Bobby Baby-Remixes! This time Lucky Misu, Rupert Falsch and Microholiday got invited by Emily in Love. And, yes they took the rendez-vous serious and did a very nice job. I guess, Emily will invite them for another tête-à-tête soon… Just listen to "Outside to play" and "Lullaby (Rupert Falsch Remix)" and enjoy some playful, melancholic but melodic pop.
MP3 Pop Music Download
Download: Emily in Love - "You Break My Heart, You Remixed It"(ZIP-Archive)
Artist-Website: www.myspace.com/emilyinlovemusic
Release: Emily in Love - "You Break My Heart, You Remixed It"
Netlabel: Corpid Netlabel
More Electronica-Indietronic Music