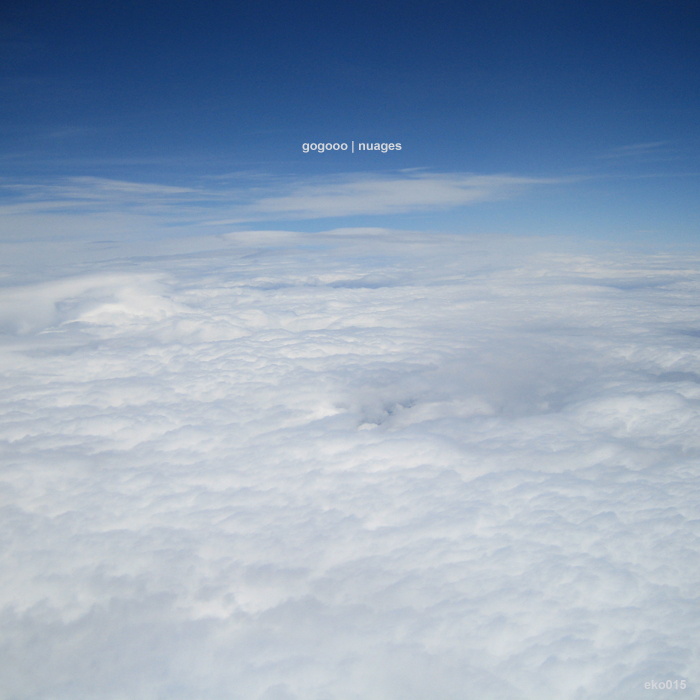 Electro-Acoustica // I've been following the way of Gabriel Hernandez a.k.a. GoGooo for quite a while. He runs one of the most beautiful and inspiring Netlabels around (Rain Music) and released his music on various small compilations and EPs, both free and commercial. What about his new release at Alexandre Navarro's EKO Netlabel?
Taking his former albums in account, one might get the impression that the GoGooo-sound at "Nuages" has changed. Well, let's say it moved. The opening track "Un Arbre" is a composition for delay and singing bowls. Clusters of complex sine waves stick in the back of the track, just like whirring air above the woods on a hot summer day. Looped and lost.
Gabriel applies very decent electronic treatment to the main source, altering the dynamics of single events or adding shy noises here and there. Track number three is called "Petites Choses" and introduces a sweet guitar-motive. First time Gabriel closes ranks to his older, more musical works. Fusing more analytical elements with expanded field-recordings, "Dormir (Forêt)" at position four sounds exactly like this: asleep in the woods. Hypnotic! The walk through a field of flowers at "Fleurs" makes you regain consciousness. Grass, flowers, bees. Warning: you've left the countryside.
MP3 Ambient Music Download
Netlabel offline
More Ambient Music