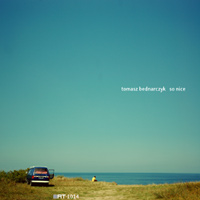 Tomasz Bednarczyk – »So Nice EP« (AudioTong)
Sunlit Electronica // Young Poland musician Tomasz Bednarczyk is best known for his "Milipop"-moniker. Due to the slightly more traditional electronica of Milipop, Tom started composing with a more experimental, yet emotional purpose. The four beautiful sound-sculptures for his So Nice **EP are nonpoint memories of a hot summer in the country, or, if you're facing the artwork, at the seaside. You can't remember the details, but the feeling lasts.
Opening track So Nice is made from looped and layered acoustic guitars. Tomasz forces his samples to cough and stumble, introduces single chords and adds harmonic patterns. There's a strong sense of melancholia in the composition but the track **never gets too florid or kitschy due to the loose sound-design. Snow at number two is quite similar, though Tom's influences become a bit more evident. The straight loop makes you think of certain Krautrock-bands, another comparison might be the music of early Marsen Jules. Final composition Love is a dubby good-night farewell. With deadbeat Rhodes and delicate synthesizers, Tomasz Bednarczyk closes ranks to artists like Jan Jelinek or Pole. No big harmonies, still a pleasant last dance.
MP3 Electronica Music Download
Release: Tomasz Bednarczyk - So Nice EP (AudioTong)
Download from archive.org: Tomasz Bednarczyk - So Nice EP ZIP
More Ambient Music