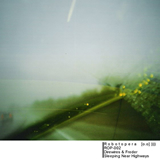 Direwires & Freder – »Sleeping Near Highways« (Robotopera)
Aural Tour-Diary // Direwires is Adam Young of Ontario, a recording artist and founder of Robotopera Netlabel (it's a shame the label is on hiatus right now but their releases are accessible via archive.org). Anyway, Sleeping Near Highways is a collaboration-project from Young and label-buddy Freder who travelled Canada for a while and found themselves, well, sleeping near highways during this time. Their music is made of delayed synth-chords, expanded field-recordings and a lot of space between the tones. Some kind of aural tour-diary which reflects the eerie feeling of being away from home, bored and trapped somewhere alongside the road.
Prelude to Sleep is a simple composition that's mainly based on a filter-modulated synth sound. Very warm, very relaxing, though there's some kind of bad premonition left- this sleep will bring you nightmares. Glowing Through Eyelids is the awaking afterwards. Like the song of a bird when the sun rises, morning rushes in with tender synthesizer-chirping. While this tune could have been released on Autoplate without a problem, most of the other songs on Sleeping Near Highways contain certain elements of experimental Rock music that make them more difficult to categorize. Innovative and hypnotizing.
MP3 Electronica Music Download
Release: Direwires & Freder - Sleeping Near Highways (Robotopera)
More Ambient Music