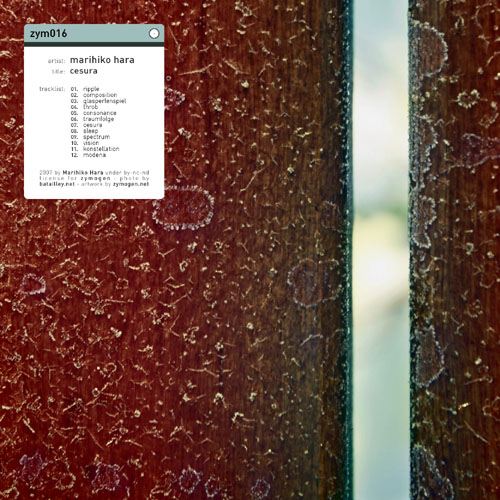 Marihiko Hara – »Cesura« (Zymogen)
Textures of Beauty // With Marihiko Hara's "Cesura", the inerrable Zymogen Netlabel dropped another outstanding Ambient-album. While Takeshi Nakamura, the other Japanese Artist on Zymogen, is commonly known for his razor sharp Digitronica, Marihiko Hara provides his diversified Ambient-textures with rather velvet gloves. Smooth electro-acoustic music with Pop-appeal and relevance? There you go!
Alongside Natsuko Yanagimoto, Marihiko is 50% of Experimental Pop-duo Rimacona. Their mixture of Jazz, Electronica and J-Pop is refreshing yet clearly based on Asian and European standards. Without his songstress, Marihiko creates spectacular music that does not know about borders. His texture are rich in sound and harmony, his glitches haven't been heard before, noise and melody are in perfect balance. It's difficult to pick certain songs because every one of them deserves attention… maybe you can start with the minimalistic bubbling "Traumfolge", the epic title track "Cesura", the piano-ballad "Konstellation" or "Modena" featuring Natsuko Yanagimoto on the mic. All-time classic, I'm serious.
MP3 Ambient Music Download
Release-Site: Marhiko Hara - "Cesura"
Direct Download: Marihiko Hara - "Cesura" ZIP
Netlabel: www.zymogen.net
Artist Website: www.myspace.com/marihikohara
More Ambient Music