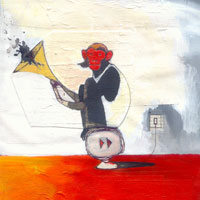 Demand Note: Bluermutt – »Decivilize After Consumption«
Sexy Glitchpop from Italy's Finest // The Ukrainian Nexsound-label introduces new artists with free albums as you might expect it from a Netlabel. If the free stuff proves successful, succeeding works are released on CD, packed in delightful and low-cost sleeves. This short post is a demand note to keep the name Bluermutt in mind. His new album "Decivilize After Consumption" will be for sale as part four of the Nexsound Pop-series soon.
Three tracks are already online at the Nexsound-website and set high standards for the full-length release. His online debut "When I'm Not" from late 2006 has already been a masterpiece of Pop-influenced electronic music and atypical Indietronica. But it seems Bluermutt will be able to do even better. For his new tunes he makes extensive use of vocals, singing, speaking, filtered and pure. The production is advanced and in-depth yet subtle enough to let the catchy melodies unfold. Consider Zoot Woman, Dani Siciliano and dear Zavoloka for reference. The artwork is done by Andrea Calisi (Mattotti, huh?). High hopes for 2008!
More Electronica-Indietronic Music