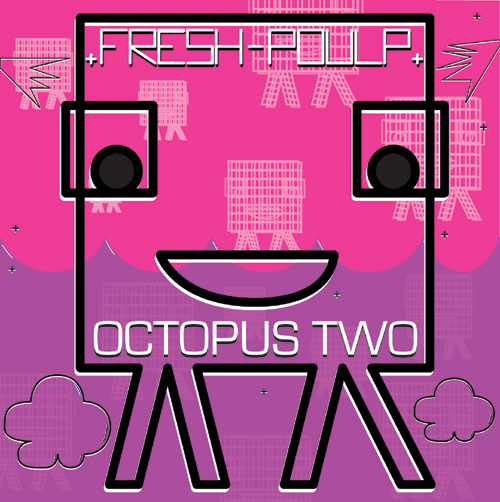 Label-Compilation
Various – »Octopus Two« (Fresh Poulp Records)
In 2004, the French eclectic electronic music netlabel Fresh Poulp Records released its first compilation "Octopus One". Four years and 28 releases later "Octopus Two" offers a musical summary of what Fresh Poulp is about. Guests and members of the Fresh Poulp family present various genres and styles like Dub, Electronica, Chiptune, Breakcore and HipHop. A Fresh Poulp odyssey.
Just like Fresh Poulps debut-release "Octopus One", the second part of the Octopus Compilation gathers two sides.
On Side A "Guests" you can find tracks by guest artists, label's friends or some casual collaborators. Some of the pieces might give us an idea of future Fresh Poulp artists. 26 year old Cyril Guillory for example, who is also known as Aquilone (he has already put out an album at muertepop). His Electronica-Shoegazer-Pop sounds very promising and "Chess Wall" is one of the highlights of the "Octopus Two" compilation.
Side B, the "Family"-side, gives an overview of artists that have already released some works on Fresh Poulp Records. Pix for example, whose releases have also been mentioned in some 2008 netaudio highlights here at phlow-magazine, contributed a new piece to the compilation. His lovely Electronica-Downtempo-Hiphop mix is allways a good treat. But there are many more Fresh Poulp veterans on "Octopus Two" - pieR, Guitoud and Yarkouy for example, who present their distinct electronica-dub styles.
So, there is a lot to look forward to in 2009. Fresh Poulp Records should be on the watchlist.
More Electronica-Indietronic Music