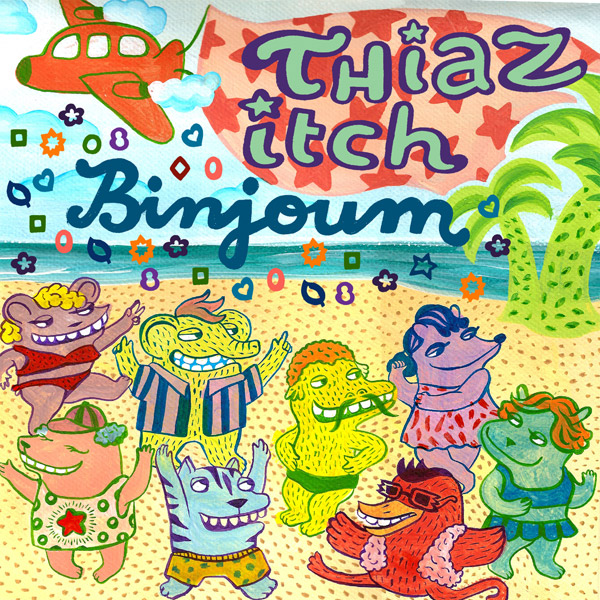 Thiaz Itch – »Binjoum« (Bedroom Research Netlabel)
Weirdo Melodic Electronica // The music by Thiaz Itch is full of contradictions. In one ear "Binjoum" sounds naive, playful and childish coloured. In the other hand this "delightful bittersweet cocktail" surprises you with a ton of different instruments. Instruments from trumpets to organs to Glockenspiel to Synthesizers thrown all together to make you smile and get confused. It's like Electronica on steroids: Let's call it Free Jazz Electronica!
The puerile happiness you discover in this fabulous release will overwhelm you the first time. That's because "Binjoum" is the equivalent of a childrens room. Coloured toys are spread all over the place and you're confronted immidiately with a bunch of kids showing you all their favorite toys. Who will you pay attention to?
But stop! Before you leave the room in panic, give Thiaz Itch a chance. Explore his instrumental tracks, listen to his songs where he sings like "The Gardener's Lament" or "B Line".  And get convinced by his original instrumentation, his happy, funky music with lots of twists and weird surprises.
Truely individual and sometimes hard to take! But in the right mood, Thiaz Itch is fun, fun, fun!
MP3 Electronica Music Download
Download: Thiaz Itch - "Binjoum" (ZIP-MP3-Archive) (FLAC-ZIP)
Artist-Website: http://thiazitch.free.fr/
Release: Thiaz Itch - "Binjoum" @ bedroomresearch.com // Thiaz Itch - "Binjoum" @ archive.org
Netlabel: www.bedroomresearch.com // http://prootrecords.free.fr/
More Electronica-Indietronic Music