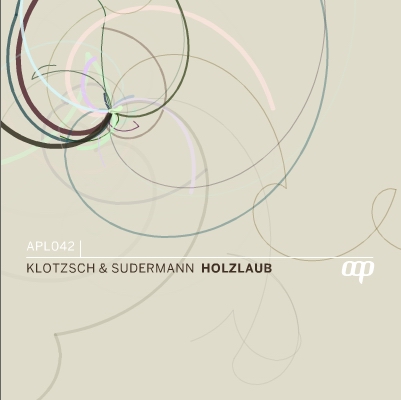 Klotzsch & Sudermann – Holzlaub (Autoplate)
Metaimprovisations // Some might remember Emil Klotzsch for his kinescope ambient album Tiefe Berge or his outstanding Feinquisit EP at US Netlabel one.dot9.ca (see mo.'s review). His new LP Holzlaub is close to Tiefe Berge, still there are many things different. The whole thing was born from expanded jams with guitarist Raimund Sudermann whose name I never heard before. Thus, Sudermann's guitar-chords play a key role if you want to describe Holzlaub.
First track Viburnum Farreri comes along with huge delay. Sudermann's loose chords trail away and leave the listener with an impression of vastness. Solid work, both artists session with a good amount of musicality and rhythmic understanding. But track two is far better: Córylus Avellána is a 13 minutes-groove monster that fuses ambient, Krautrock and protohouse (which is, funk). Wow! Thuja Plicata afterwards reminds me a lot of the folky moments at "Niun Niggung" by German electronica band Mouse on Mars. There is the same mood of good humoured resentment I really enjoy. The last track (Amelanchier Ovalis) carries along this mood and transfers it into a well-composed, fractalised Folk-song. Haunting sounds in the back, beautiful guitars in the front, 1000 little noises as plaster in-between. Astonishing album.
MP3 Ambient Music Download
More Electronica-Indietronic Music