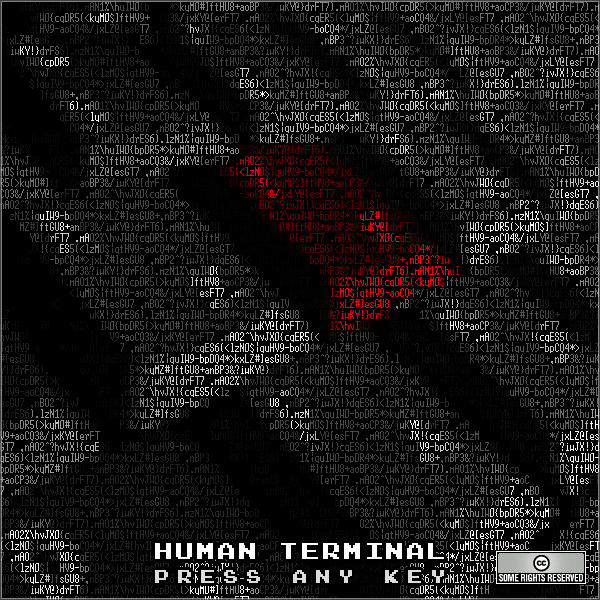 IDM and Drum'n'Bass from Russia
Human Terminal – »Press any Key« (Rec72 Netlabel)
Human Terminal is a very promising artist from Russia. The silent ways and floating numbers sometimes give me the idea from "Future Sound of London", but is a somehow different way. The album "Press any Key", released on Rec72, combines silent moments with some fast-paced IDM'ish Drum'n'Bass on other tracks.
Where is all the IDM-music gone? Maybe it went out-of-space, but maybe it found a new home on the web on netlabel Rec72. Good, what does IDM mean after all? Is it close listening? Is it scaping spheres and fast rhythms, that do not take the borders of music-genres too closely? I hope for the last. Because the EP "Press any Key" does provide both.
The first tracks on the EP are somehow like very classic trance-tracks, so music that went its way, before rave-trance was born. A little bit like very classic (British?) tunes of trance music. Please let me crawl into the speaker. The other half of this EP features fast-paced tracks of IDM-music, maybe in the same tradition. Harsh, not precise, also not upfront. Meant to listening. But this is also my critique, at least my personal. Although there is a sure value of the music on this EP I am missing some sort of flow - at least if you take a look in the other half of this EP.
I like to drift to the scapes, and also like the disturbing rhythms of Human Teriminal. But what I don't like is to tell "This track is more like floating and this like weird beats". The IDMish thing after all (IDM = intelligence dance music?) is about fucking over all genres, in order to make make the people dance or have them a whole experience and after all, isn't it? Maybe I just didn't met this dancefloors already yet. Maybe things just have to progress, so please keep up with giving us such tunes!
Downbeat Drum and Bass IDM MP3 Music Download
Download Human Terminal – »Press any Key«
Release
//
Human Terminal – »Press any Key«
Netlabel
//
http://rec72.net
More Downbeat Music