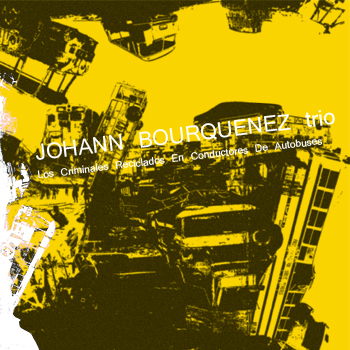 Plaistow Trio – »Los Criminales Reciclados« (Insubordinations)
Powerful Post Jazz // The Geneva Plaistow Trio consists of Johann Bourquenez, Raphaël Ortis and Cyril Bondi. "Los Criminales Reciclados en Conductores de Autobuses" is their first official release and it made a sudden impact on me once I downloaded the files. I knew about Bourquenez's lyrical talent and Bondi's subtle grooves, still didn't except that much beauty, power and briskness. Four elongated Post Jazz tunes you should listen to at high volume and repeat.
"Yap-Yap" opens the EP with a breathless mix of straight forward drums, a drilling Bebob-bassline and Bourquenez's free and harmonic piano-patterns. The Bondi battery has a quite heavy Rock-sound, which captures the live-energy of the trio very well.
Talking about Johann Bourquenez's awesome play, I like to drop another name you should be familiar with: McCoy Tyner and 1962's Cecil Taylor. Concerning the power of the trio in a whole, one can't avoid naming Art Blakey for reference. Second tune "Mairie des Lilas" is nothing else but a damn revelation. Bouquenez forges cautiously on a small number of keys, repeatedly, Ortis is at place with subtle textures in the back and Bondi supports the piano with decent toms and cymbal. Humble beauty, give me an alleluia!
MP3 Jazz Music Download
Release-Site: Plaistow Trio - Los Criminales Reciclados (…)
Direct Download: Los Criminales Reciclados (…) ZIP
Netlabel: www.dincise.net/insubordinations
Artist Website: www.edogm.net/plaistow
More Jazz Music