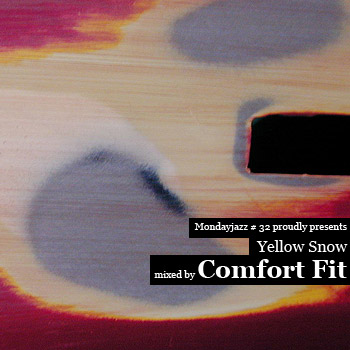 Comfort Fit – »Yellow Snow Mix«
Juicy HipHop-Mix // Comfort Fit is a true phenomena. He fuels his techy HipHop-productions with powerful jazzz-inspired melodies and combines them with complex beats. Underneath and in each corner of the stereofield you feel his love for eclectic sounds. His "Yellow Snow Mix" is an actual blue print of his latest own productions and cooperations with other vocalists.
Since I discovered Comfort Fit on Tokyo Dawn (FTP) I felt in love with each new production. I admire Comfort Fit for his production skills and passionate love for HipHop-Music. But while other musicians copy old patterns, Comfort Fit explores new paths. In his "Yellow Snow"-Mix you listen to a exciting fusion of jazz, minimal techno-inspired sounds and of course broken beats. With each listen you discover new sounds, twists and melodies. Five stars! Keep your head up, and dig this!
The mix was originally mixed for mondayjazz.com and is not released under a creative commons.
MP3 HipHop Music Download
Artist-Website: www.comfortfit.de // www.myspace.com/comfortfit
MP3-Download: Yellow Snow Comfort Fit Mix (MP3)
Comfort Fit-Yellow Snow Mix - Playlist
Intro
Comfort Fit - Emotional Draft (Tokyo Dawn Records)
Portformat - Rest In Bounce (CD-R)
Ammoncontact - With Voices (Ninja Tunes)
Flying Lotus - Pet Monster Shotglass (Plug Research)
Grüün - Gluck Gluck (Soho RMX)(CD-R)
Comfort Fit - Check Your Purse (CD-R)
Comfort Fit - Dr. Snuggles Revenge (CD-R)
Andre Zimma - Colors (Comfort Fit RMX) (Swedish Brandy Records)
Comfort Fit - Grown (Instrumental) (CD-R)
Comfort Fit - Dirty Decisionz (CD-R)
Comfort Fit - Nu Metropolis (Mental Recordings)
Comfort Fit - State Of Mind (Swedish Brandy Records)
Dyno - Autumn Love (CD-R)
Cvees - Spread Love 2 Ya (Tokyo Dawn Records)
Grüün - Du Brauchst (CD-R)
Outro
More DJ/Liveact Mix Music