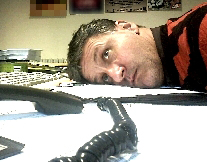 Thierry Massard Free Music Charts 2007
After a first blog experience, views and reviews in 2006, Thierry Massard is now coordinating noCo …mment, a selected guide of Netreleases. noCo is also the place for some side-projects dedicated to visual artists (720x120) and the Questionnaire, which is a project based on the original questionnaire by Marcel Proust, submitted to the attention of people representative for the Netscene.
Thierry is 48, lives at the seaside in France and has recently a 1979's Industrial music release re-edited by
Metropublik
. This re-issue will be followed by subverted remixes for
Kreislauf
Netlabel.
Thierry Massard's Top-5 Netaudio Songs
Thierry Massard's Top-5 Releases
Thierry Massard's Top-5 Netlabels
More Charts Music