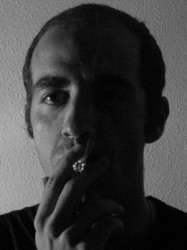 Sr. AYE's Favorite Netaudio Moments in 2008
Advent Calendar Door 11 Salvador España is Sr.Aye, who defines himself as some kind of strange lemur living in south Spain. He's a musician working since the end of 90s. Since 2004 he has been collaborating both as producing and managing Miga, one of most relevant spanish netlabels. Within this period he's released on netlabels like Plataforma-LTW, Minuendo, Addsensor, Homeworks records, Audiovisualtheorem and Miga. He also performes live sets in festivals mixing abstract hip hop and IDM. Among these events we can highlight Observatori 07 (which is available at op3n.net), London Netaudio 06, Electrosplash 06, Territorios 08 and many others celebrated at cultural centres, museums and universities.
Top-5  Tracks and Releases in 2008
Top-5 Netlabels
Surprise and Netlabel Phenomena 2008
Buda Beats and the compilation "VV.AA Popular is wrong " on Plataforma-LTW.
More Charts Music