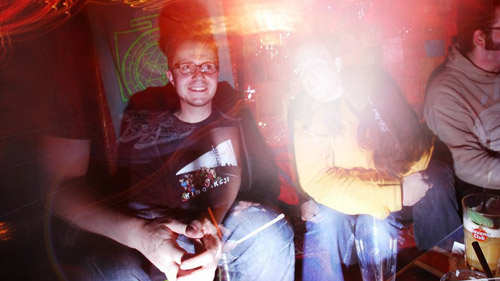 An interview with Patryk Galuszka about his research on netlabels
Digital Phlow Podcast // Two weeks ago I met Patryk Galuszka for an interview about netaudio and netlabelism. Patryk Galuszka is a researcher who works for the Max Planck Institute for the Study of Societies and the Academy of Humanities and Economics in Lodz. To find out more about Patryk visit his blog and click the flag for a short English version. Or listen to our podcast and get to know some interesting facts about his research! Last not least: If you are a netlabel owner and would like to make an interview with Patryk, than contact him and read on!
Foto by Psycoded: Patryk (left) meeting the netlabel scene in Cologne
(to the right Flo and Stoffel)

About my research project: survey and interviews with representatives of netaudio scene. Aim: to learn more about netlabels, write scientific articles, promote the scene.

I am also looking for people from netlabels to conduct interviews with them (using Skype). If you have some time in December or January-February next year, let me know: patrykgaluszka [at] gmail.com (of course remove all the spaces and substitute [at] with @). The interview would last about 35-40 minutes. I guarantee anonymity (if you want). Thanks in advance!
And here some favorite tracks from Patryk
More Interview Portrait Music