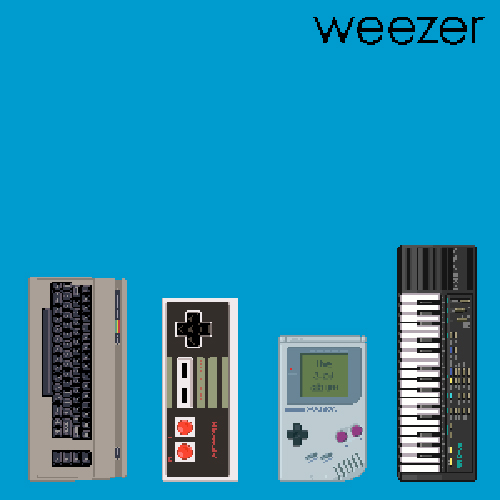 Weezer- »The 8-bit Album« (Pterodactyl)
Perfect! // 14 chip tune celebrities interpret songs of college rock legends Weezer ("Buddy Holly"). That makes so much sense I wonder why it took the careful hands of Pterodactyl Squad Netlabel only now to make this album come to life. Great fun if you're a Weezer fan, catchy listen if you're an 8bit addict.
Anamanaguchi - "Holiday" (MP3)
Tugboat - "El Scorcho" (MP3)
Bit Shifter - "The World Has Turned (…)" (MP3)
The element that many chip tune musicians and most Weezer songs have in common is a certain will and addiction to melodies. Catchy melodies. OBSCENE melodies. While Weezer cross their kitschy music by River Cuomo's fragile vocal performance, in case of "Weezer- The 8-bit Album", Nintendo and Atari TV games take the job. Did I mention it works like perfect?
The spectrum ranges from "band" (Anamanaguchi, :(, I Fight Dragons, and - surprise! - Bit Shifter) to oldschool gameboy-only (Tugboat, Nordloef, Arcadecoma). You don't need much more. This is the lovely liner notes Pterodactyl Squad put on:
"Do you remember that dream you had, where the sound chips from the beloved games consoles of your youth all got together and formed a Weezer tribute band? Yeah? No? OK. That dream is about to come true whether you had it or not."
MP3 Pop Music Download
Download: Weezer- The 8-bit Album (ZIP)
Release: V.A. - Weezer- The 8-bit Album
Netlabel: www.ptesquad.com
More Chip Music Music